Only a select few have had as much of an impact on how we perceive fashion as Rei Kawakubo. Starting her line in 1969, Kawakubo's ascension atop Japan's emerging design heirarchy was destined. Popularity augmented quickly with her distorted monochromatic collections and so grew her line, expanding and introducing menswear in 1978 and debuting a Paris showing in 1981. Although lacking formal training in fashion design, Kawakubo altered the way clothing and what it represents is perceived. Stating countless times that her designs are not necessarily about the clothing themselves, but by how they make you think and feel.
Rei's inaugural collection offered a crisp new vision of garment design and production. Items saw oversized, shapeless silhouettes draped and gathered around the body. They were pre-distressed, they were deconstructed, they were the antithesis of the acceptable normalcy: a harshly unapologetic interpretation of dress and personal representation.
The house has always been known to be different than that of its peers, especially when considering the type of business model that Kawakubo introduced. Comme des Garçons encompasses a vast repertoire of lines underneath the umbrella of Comme des Garçons Co. Ltd. Those of which include masterful designer Junya Watanabe, who began as a patternmaker, and the various men's ready-to-wear collections such as Comme des Garçons Homme, & Junya Watanabe Comme des Garçons Man. Noir by Kei Ninomiya (a women's line that began in 2013) is designed by the former nominal CDG patternmaker. Overseeing everything, Rei herself has a hand in designing, with a curriculum vitae including Comme des Garçons, Comme des Garçons Homme Plus, and Comme des Garçons Noir.
Rei's incubator-type system works in a way that allows her to mold young and upcoming designers, infusing CDG's DNA in to their growing and developing craft under her care. Gosha Rubchinskiy, a Russian streetwear label, is now distributed and completely managed by CDG Co. Ltd., enlarging the company's profits towards 300% since the acquisition.
Comme des Garçons is not just a label, it is conceptually an entire world on its own. It allows the consumer to feel part of a family, a part of something bigger than fashion itself. In her own words, "Fashion is something you attach to yourself, put on, and through that interaction the meaning of it is born."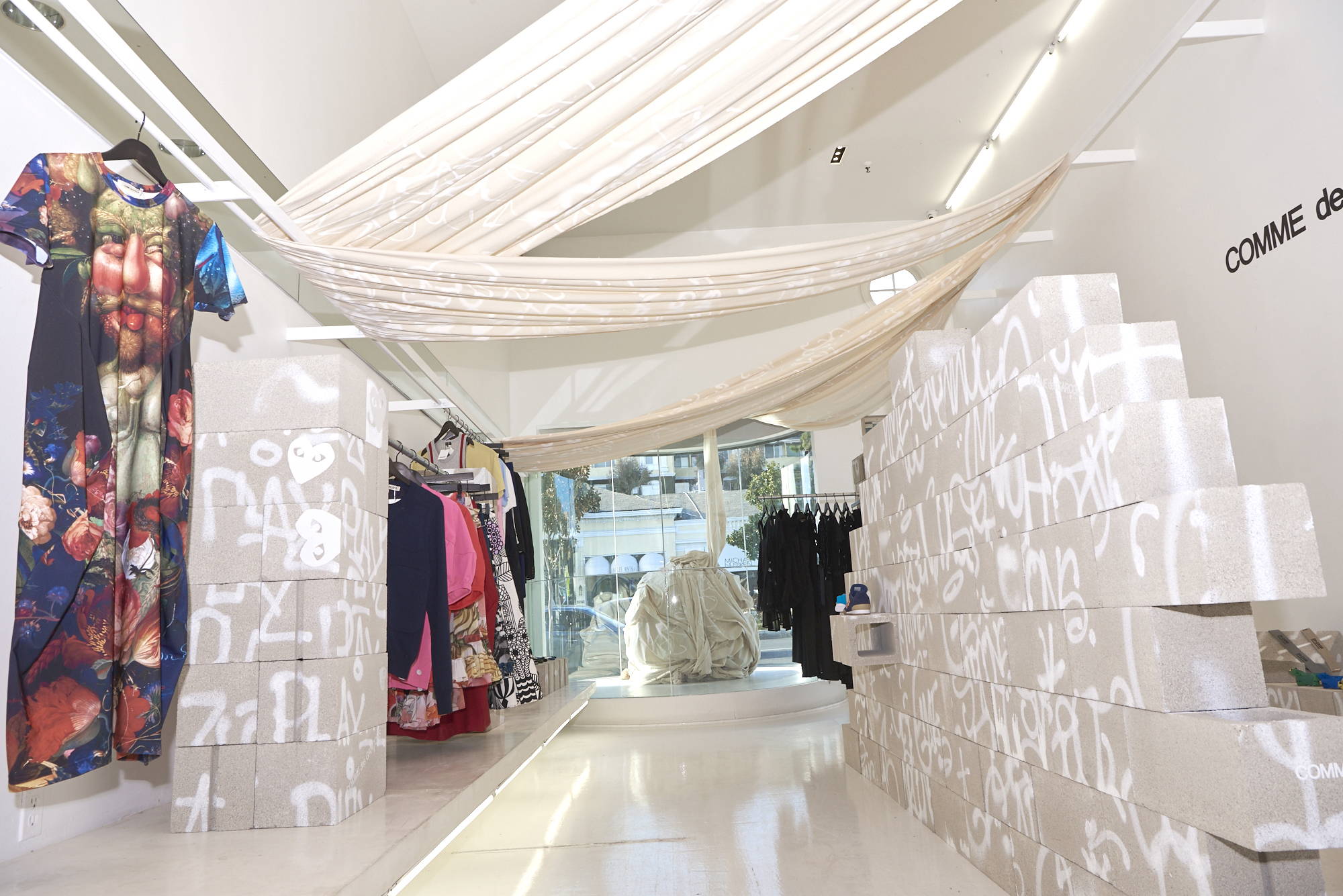 Installation by @mattekavanagh & @philamerica for H. Lorenzo 2018