A Cold Wall*
Presented by Samuel Ross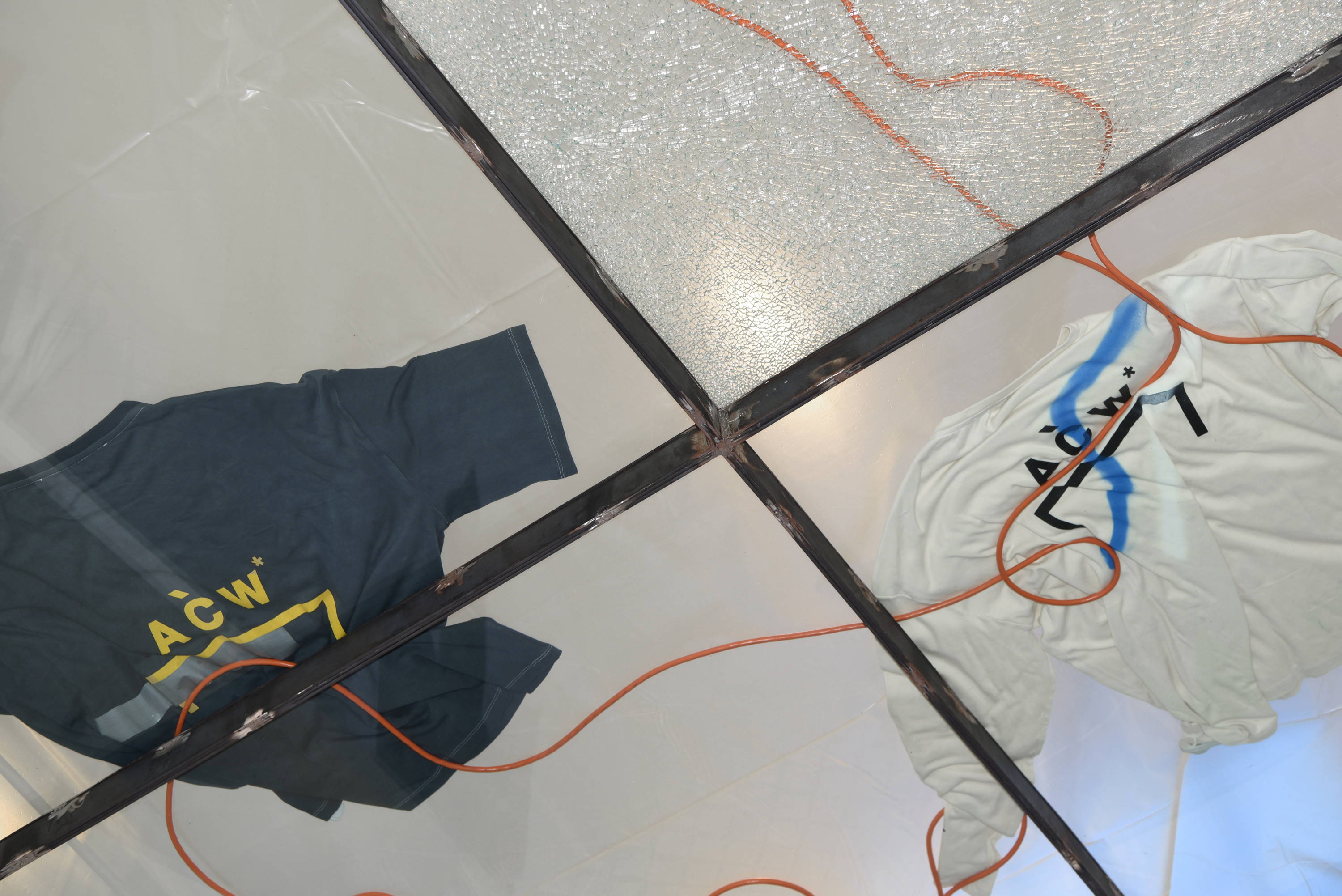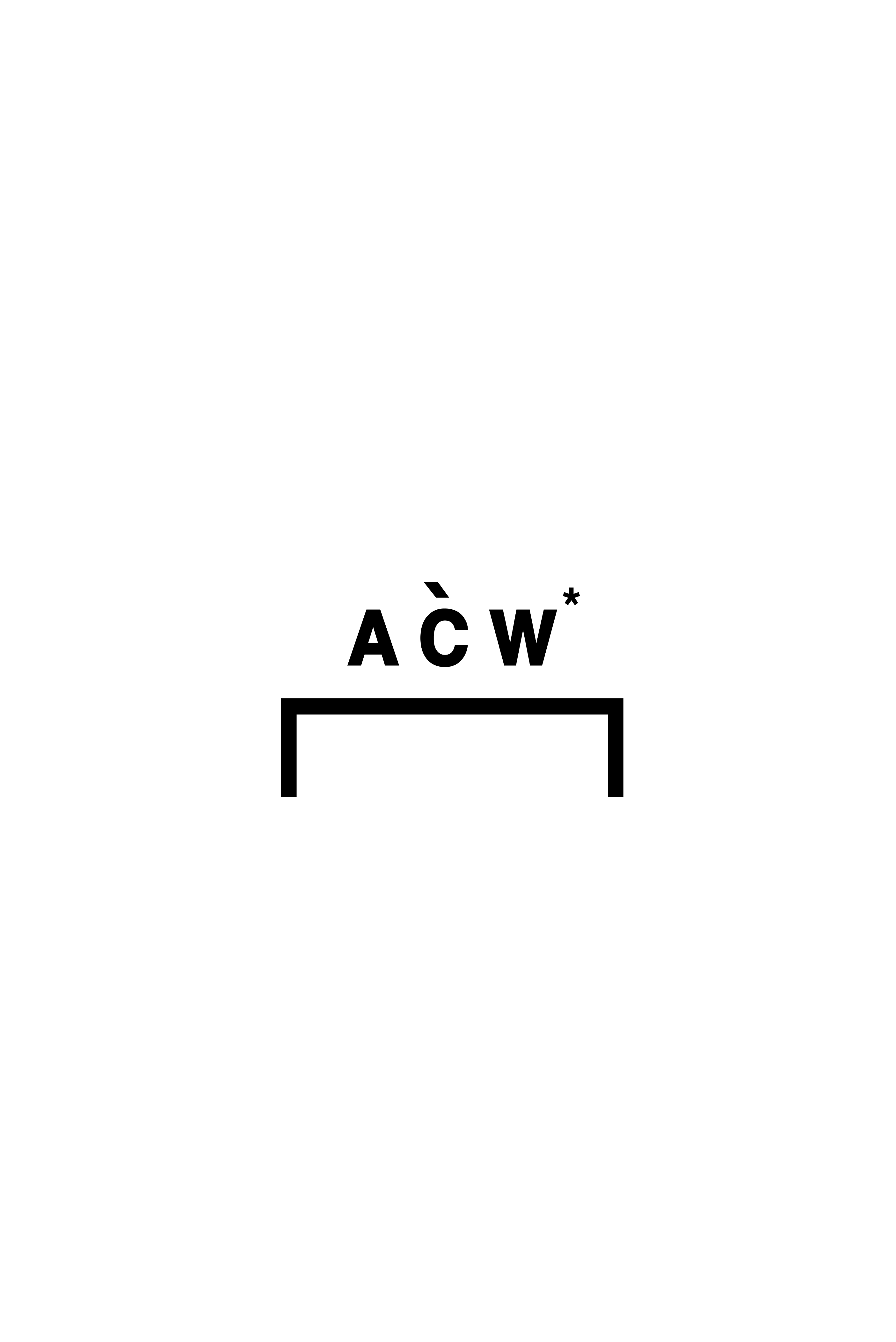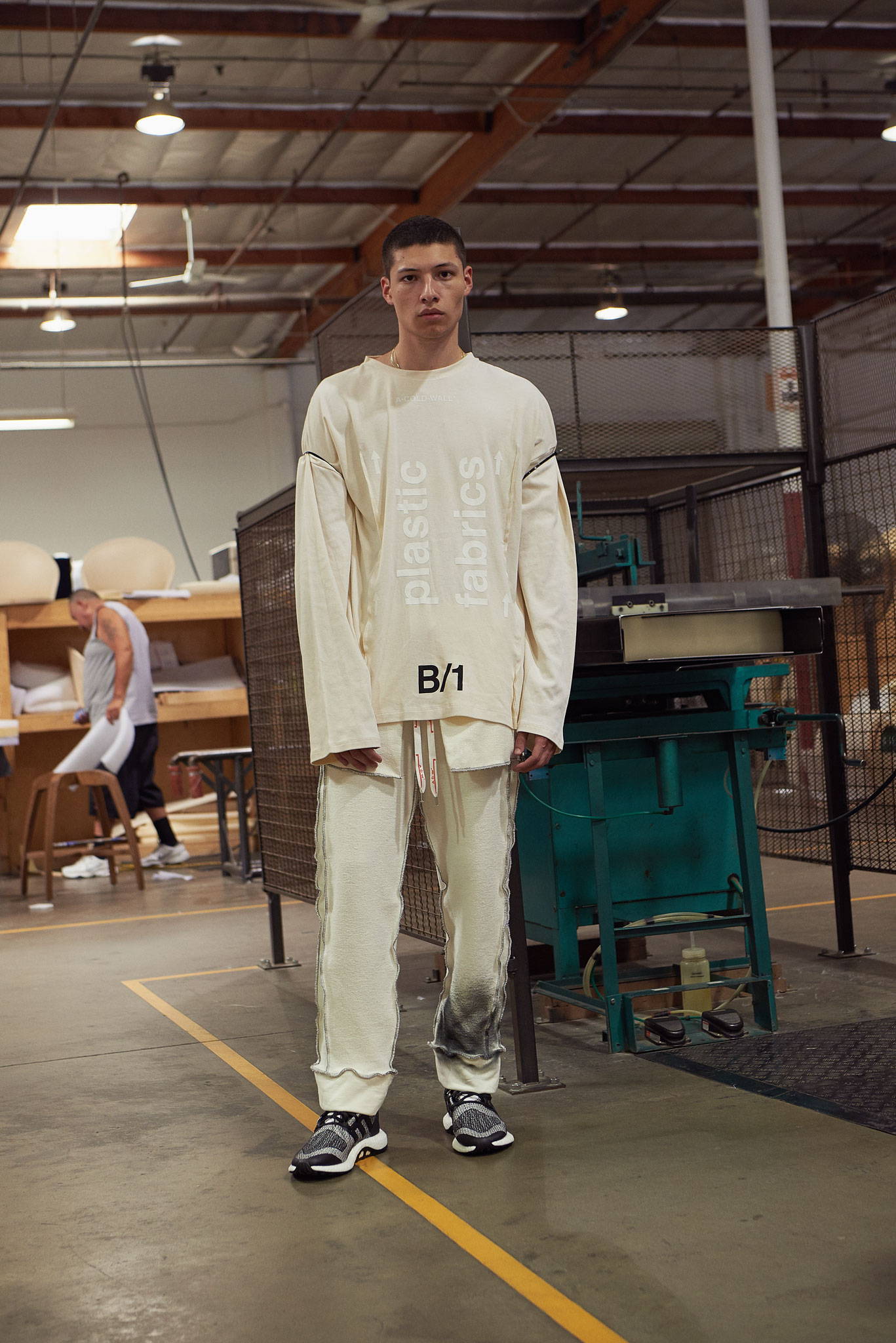 A COLD WALL PRESENTED BY SAMUEL ROSS IS THE SUSTAINED REACTION BETWEEN UNDERCLASS UTILITARIANISM INTERPRETED THROUGH THE LENS OF UPPER-CLASS ACADEMIC SENSIBILITIES.
If undermining the application of utility renders design consequently inelegant A COLD WALL PRESENTED BY SAMUEL ROSS applies a careful balance of reinterpreting items of simple utility through cerebral applications of material and design.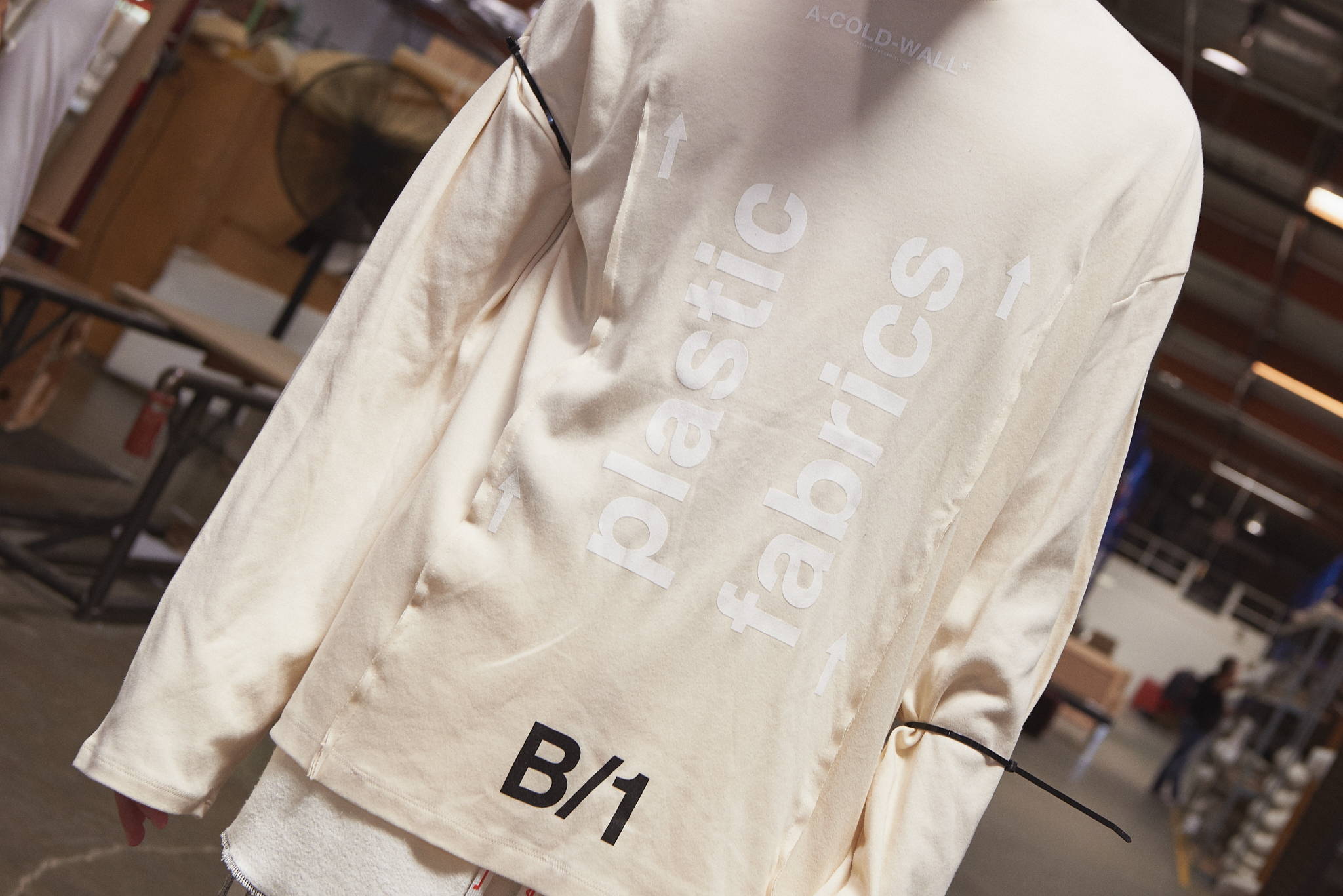 Shirts offer developed details- backed necklines to prevent stretching and a contrasting reinforced nylon overlocked stitch for durability. The construction is echoed by a series of superfluous design choices- Half-hazard darting, garment-length cuts repaired by top stitching, excess thread left to fray. Fractured graphic design, object dyes, and hand applications of paint add a visceral finish to the warped and distorted silhouettes.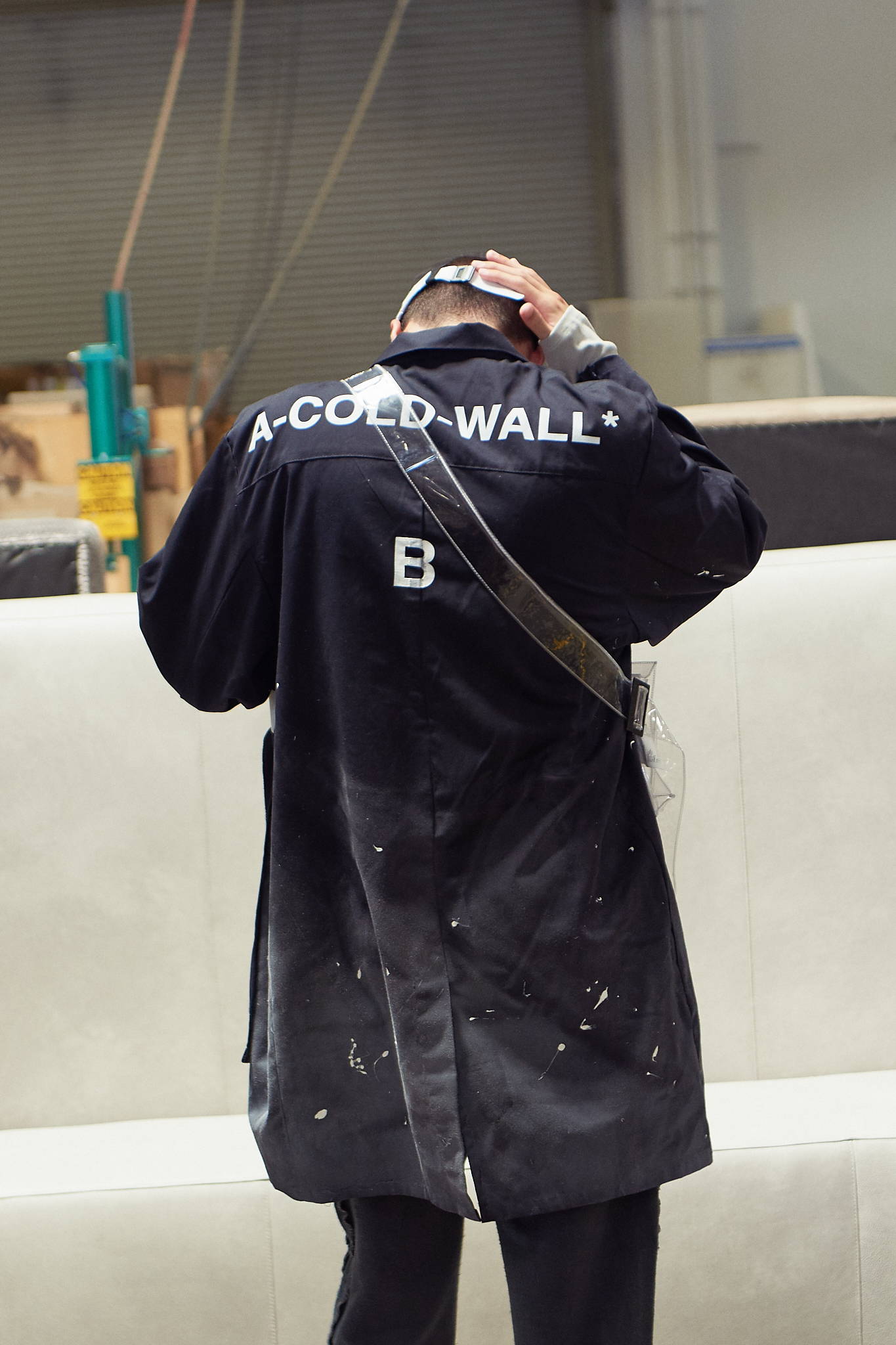 Outerwear applies a technical hand in regards to textile selection, utilizing lightweight ballistic nylon and rip-stop synthetics to build ACW's Mac coats. Steel clasps sit adjacent to exaggerated vents, and subtle detail can be found throughout the garment indicating well thought design choices through an obvious process of research and development.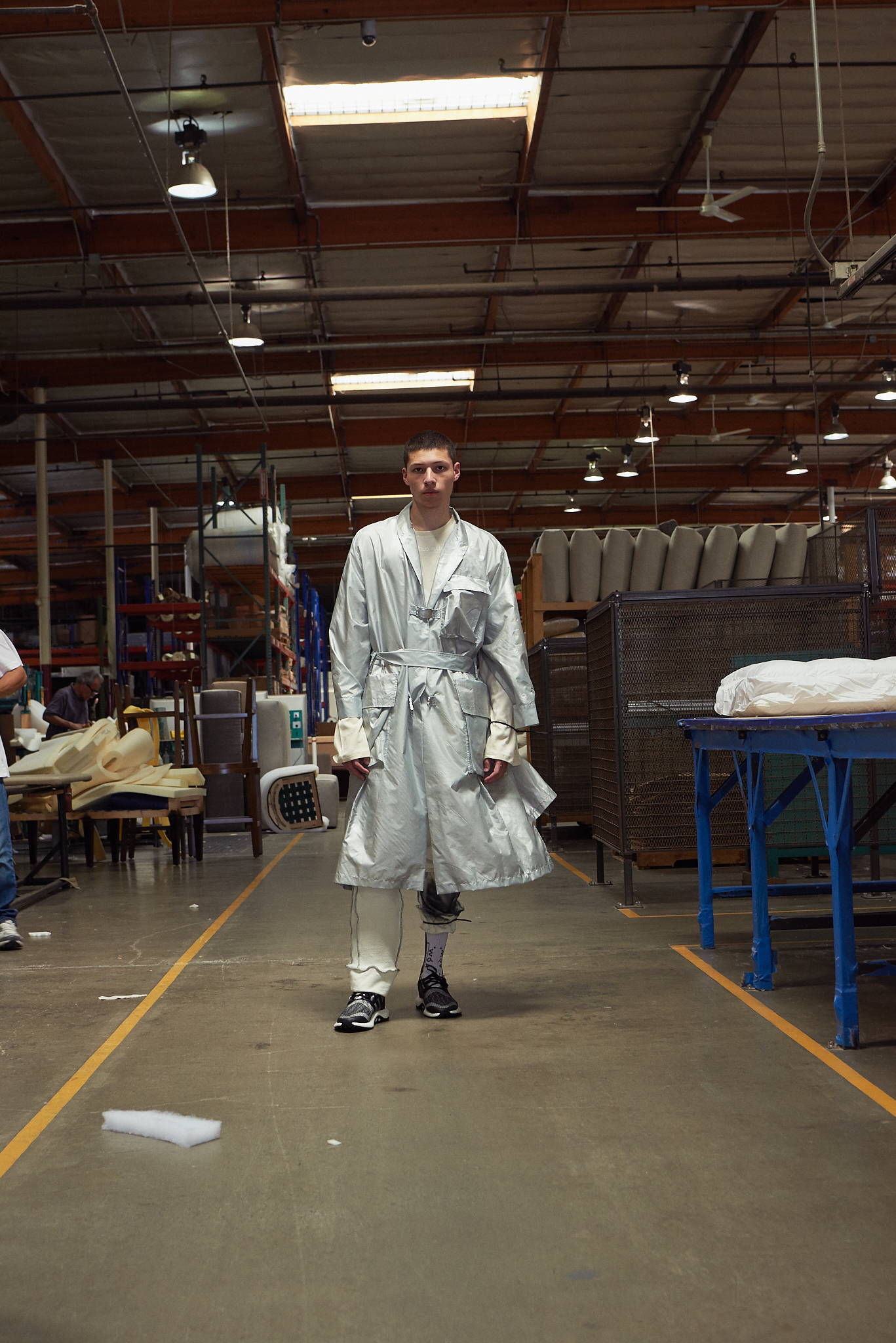 Developed in collaboration between A Cold Wall and H. Lorenzo the lightweight hooded ballistic nylon overcoat in RED. Limited quantity exclusive to H. Lorenzo.  Garment details include raglan shoulder construction, ACW* Branding on cuffs and back, an a enclosureless shawl llapel, and structured but lightweight fit throughout the body.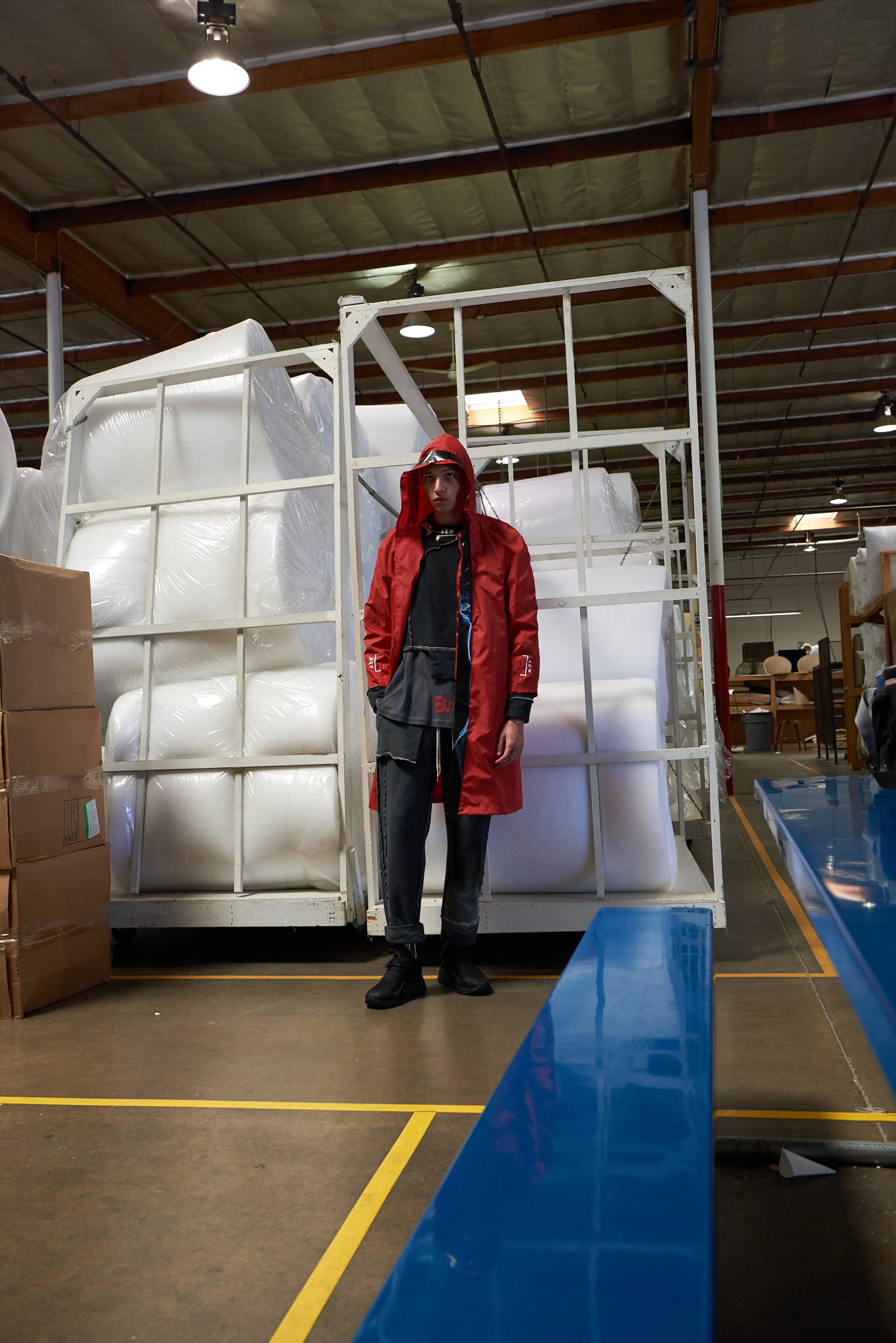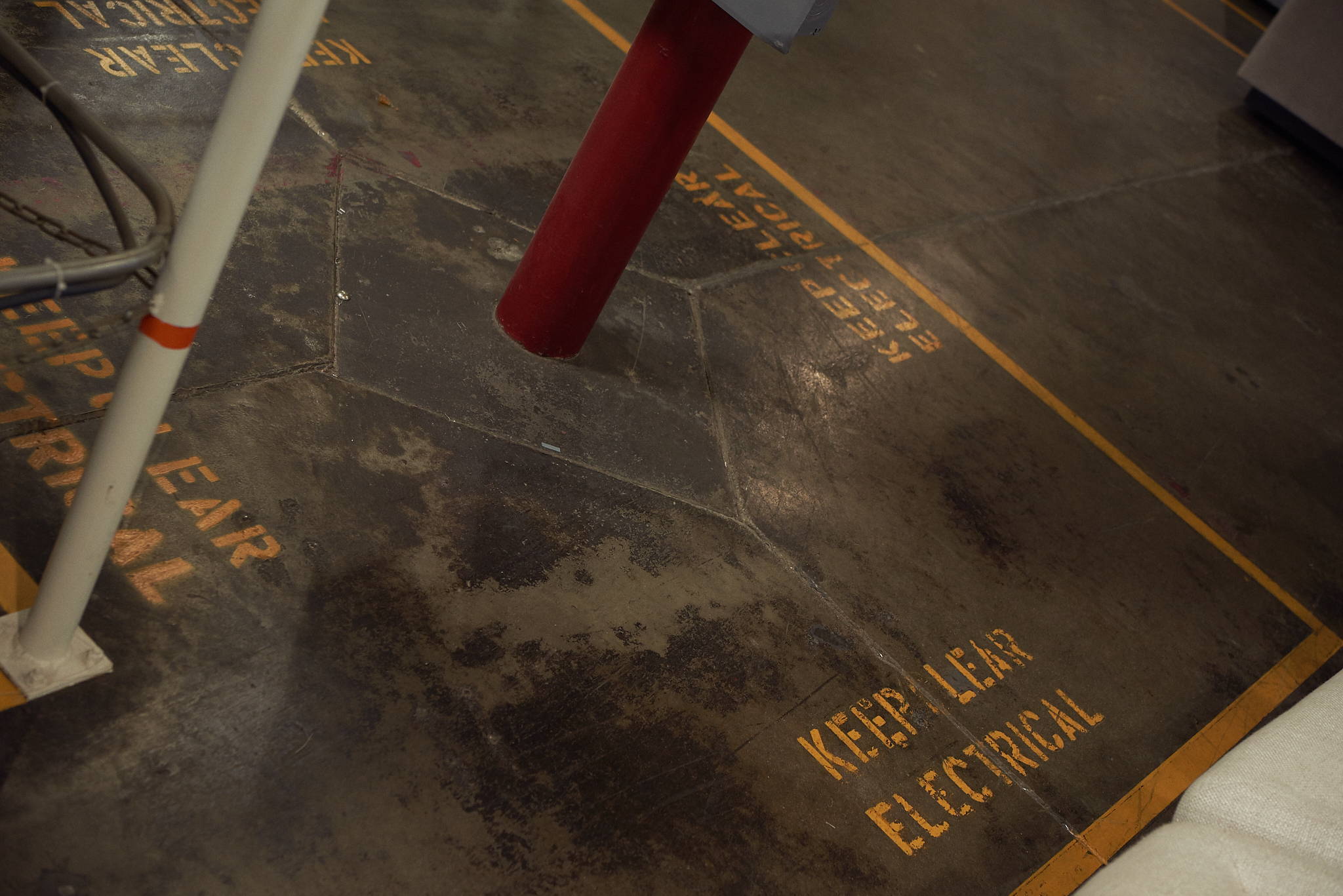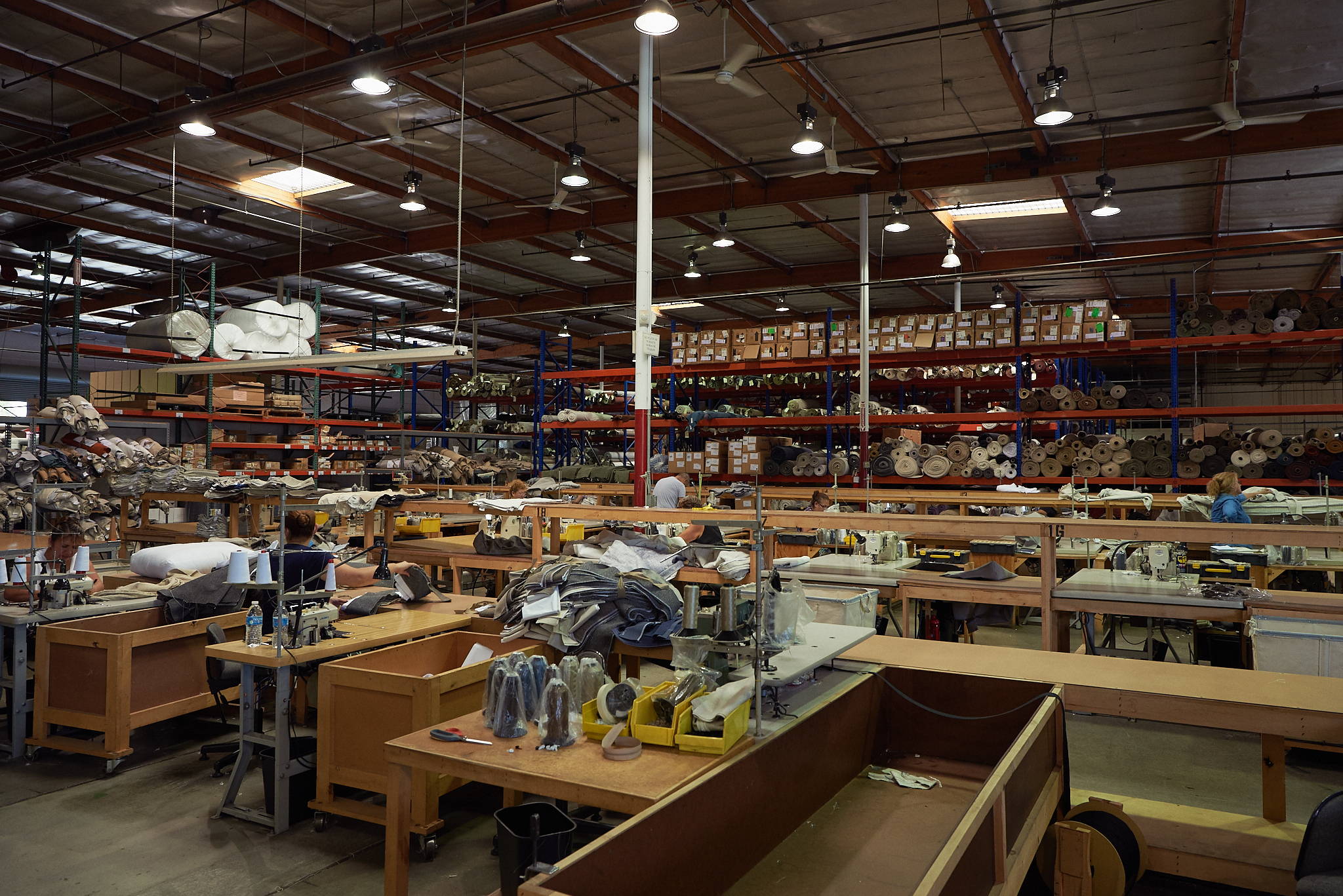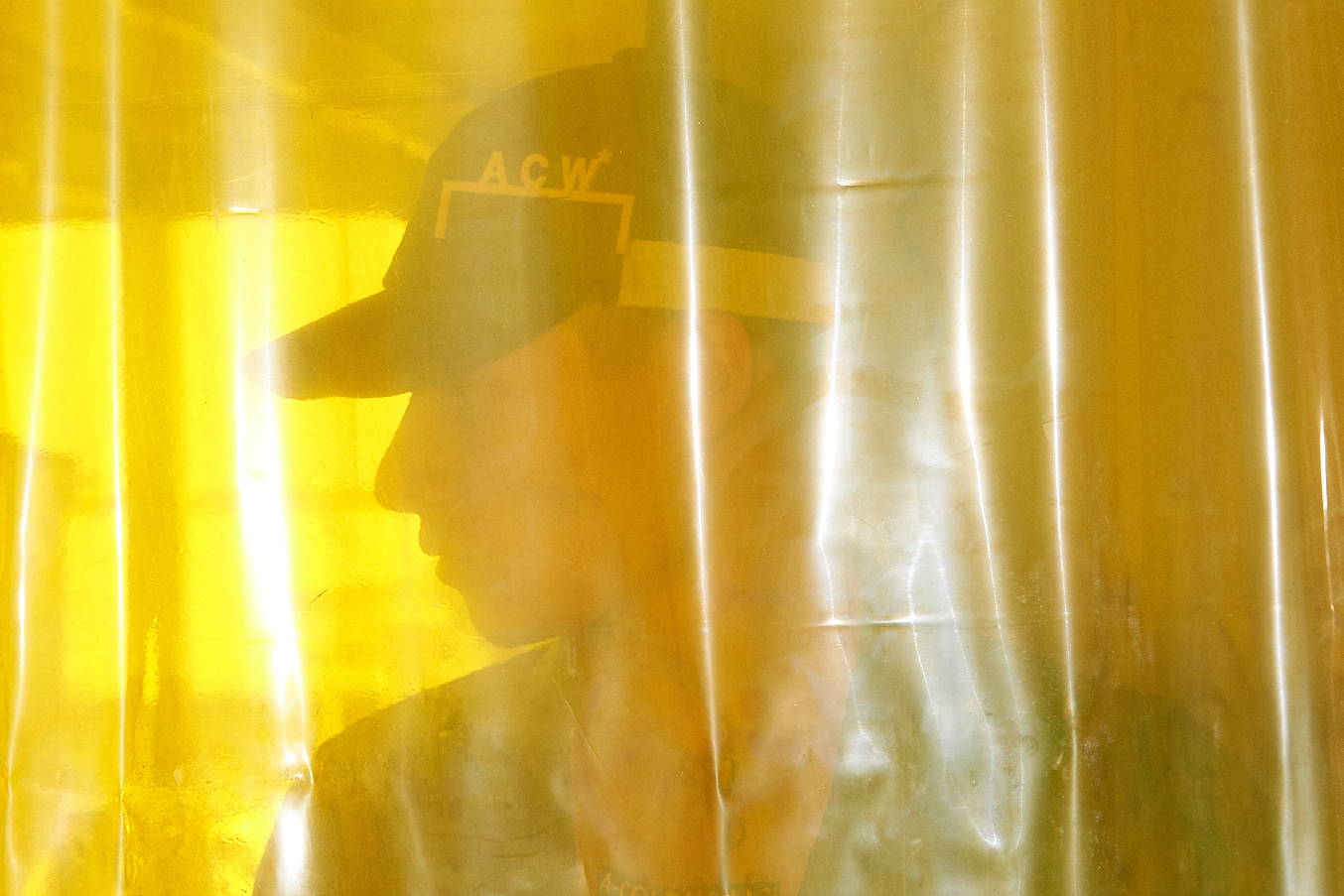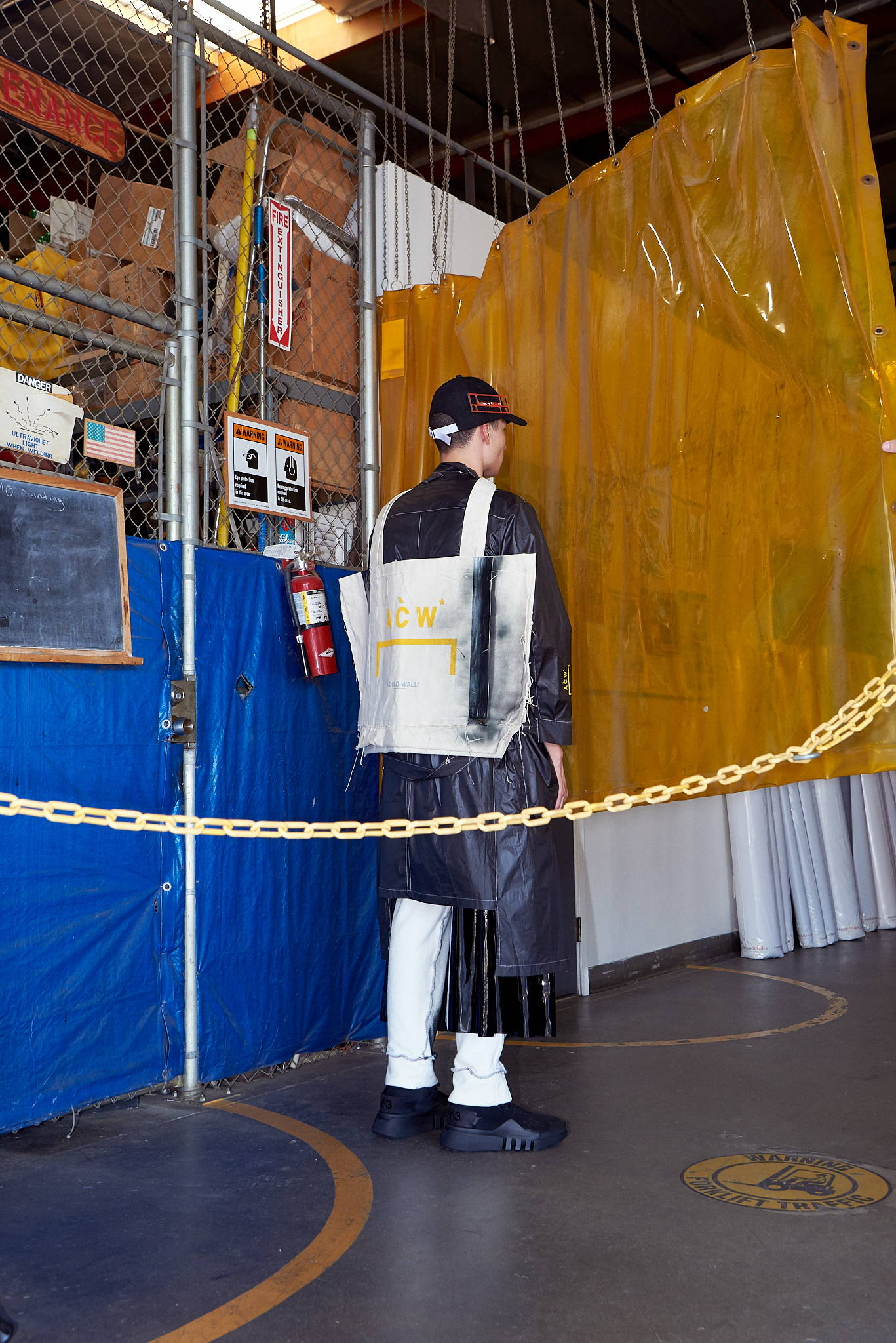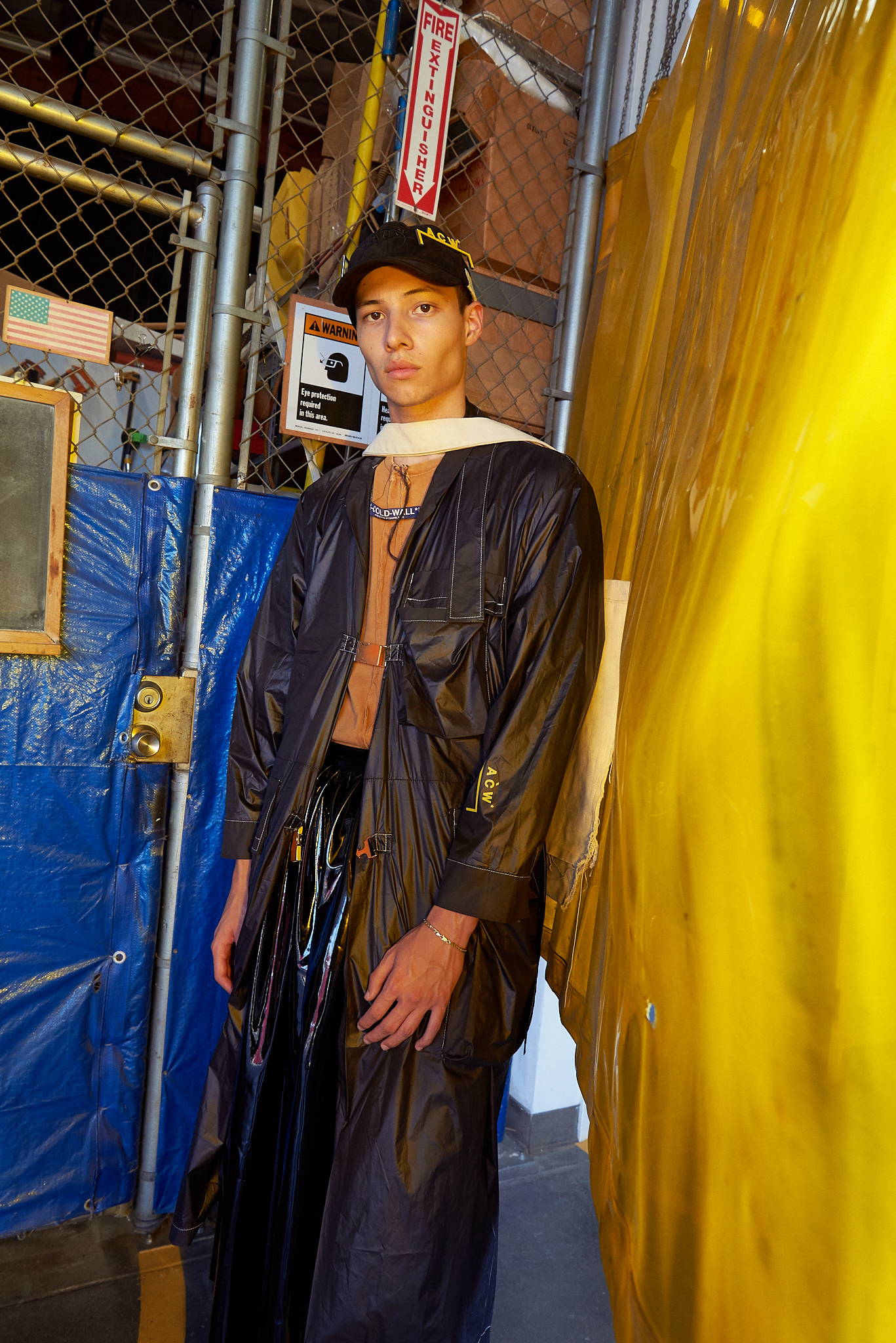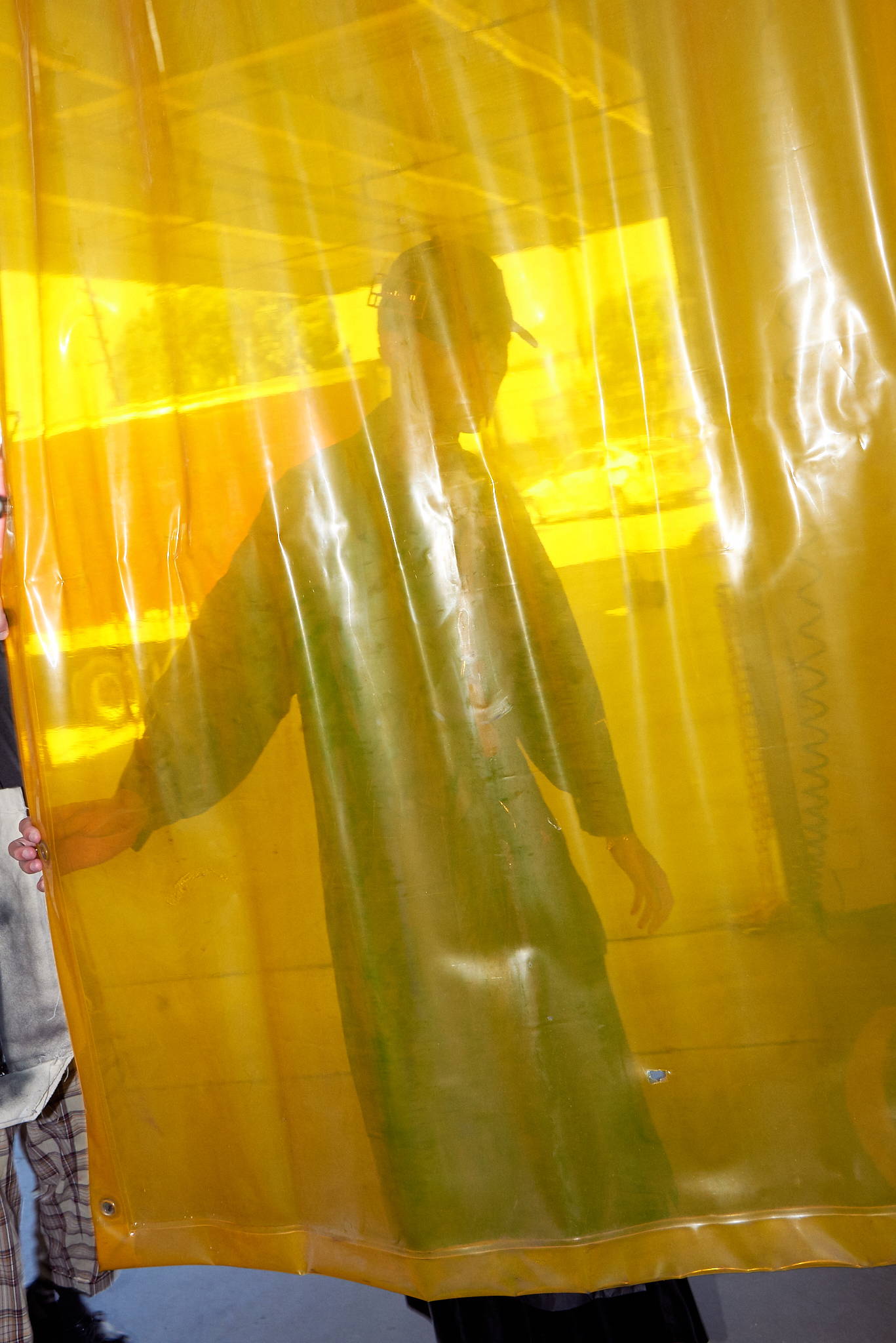 INSTALLATION
Complimenting the sentiment of design application is Samuel Ross's affinity for architecture and installation art. A COLD WALL offers more than an aesthetic selection of garments with their conceptual displays installed within prestigious retailers and galleries around the world. To experience the collection is a commitment to brand immersion. Brutalist structures are erected with the intention of encompassing the participant, encapsulating them within a segregated world of stark design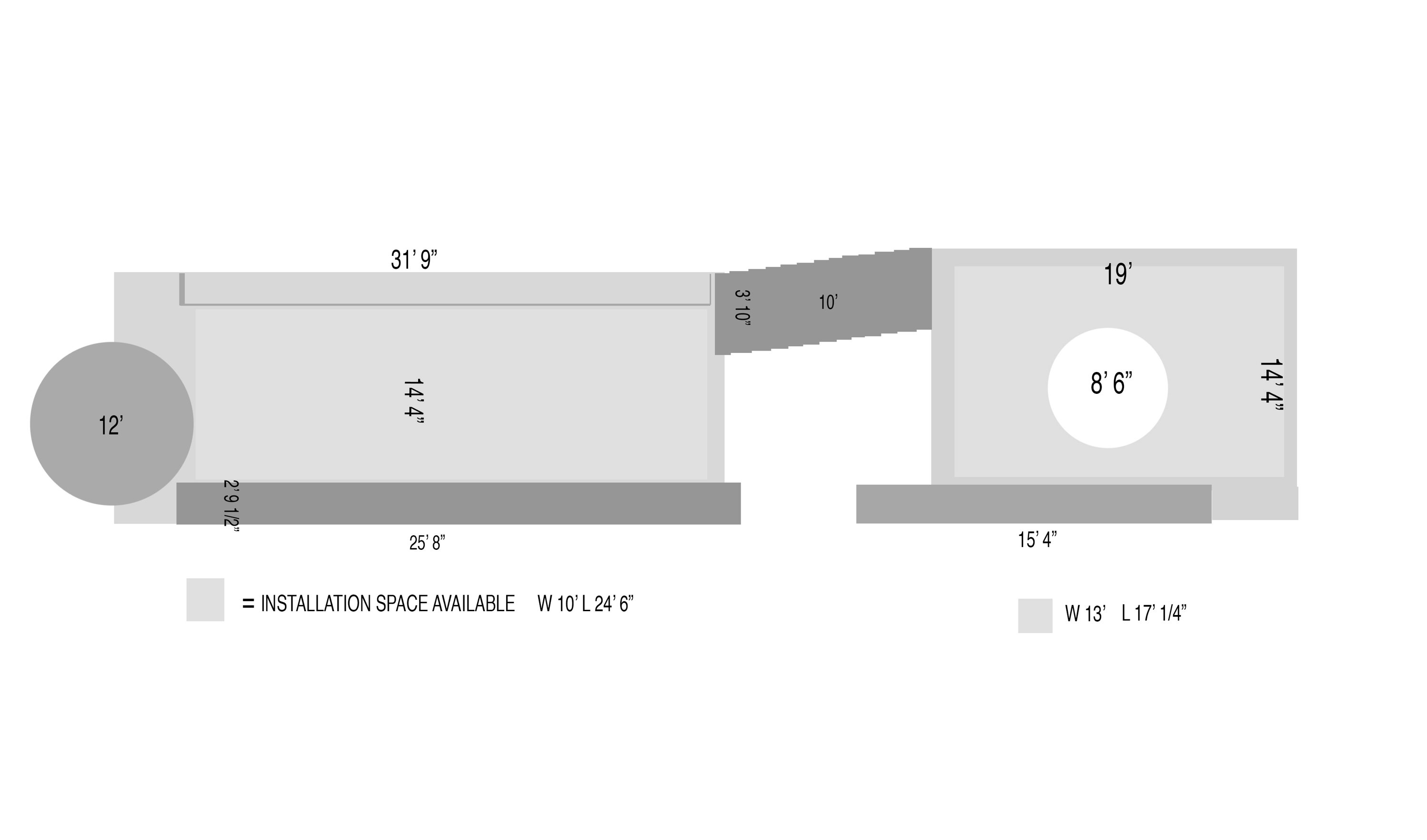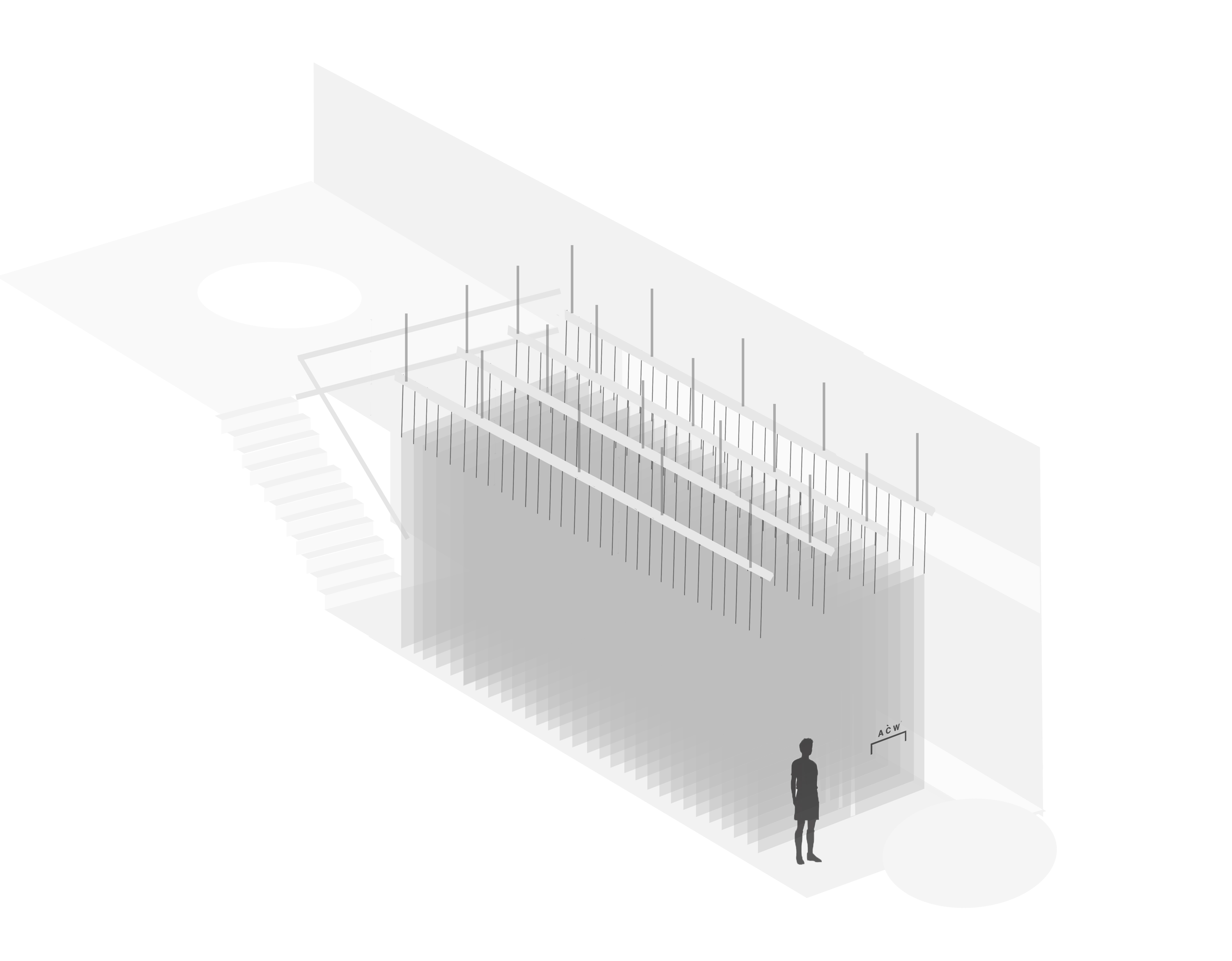 A COLD WALL 'COMPRESSION' STRUCTURE
INSTALLED TUESDAY JULY 25th - 27th
TOTAL STRUCTURE WEIGHT: APPROX 400 LBS
TOTAL STRUCTURE SIZE: 345 CUBIC FEET
STRUCTURE CONSISTS OF FIFTY 10' x 10' SHEETS OF MYLAR PLASTIC SUSPENDED BY TWO-HUNDRED 3 1/2 FOOT LENGTHS OF 32in GALVANIZED STEEL WIRE. WIRE IS SECURED WITH 400 FERRULES TO FOUR 23 FOOT LENGTHS OF ALUMINUM PIPING TO CREATE A 'FRAME'.  ALUMINUM PIPING IS FURTHER SECURED TO THE CEILING VIA TWENTY 3 FOOT LENGTHS OF 1/8TH INCH WIRE WITH FOURTY 1/8TH INCH WIRE STOPPERS AND JOINED TO TWENTY 1/8TH EYELETS BOLTED INTO THE CEILING.
PARTICIPANT ENTERS STRUCTURE VIA VENTS IN MYLAR AND NAVIGATES THE ENVIRONMENT.  COLLECTION IS DISPERSED WITHIN STRUCTURE AND DISCOVERED AS PARTICIPANT PUSHES THROUGH THE MYLAR SHEETS. REPETITION OF MATERIALS INVOKE A FEELING OF 'COMPRESSION'
-THE INABILITY TO MAKE PROGRESS WHEN FACED WITH
REPEATING BARRIERS
-THE ABILITY TO MAKE DISCOVERIES WITHIN THOSE BARRIERS
-COMPLETION OF AN ENDLESS TASK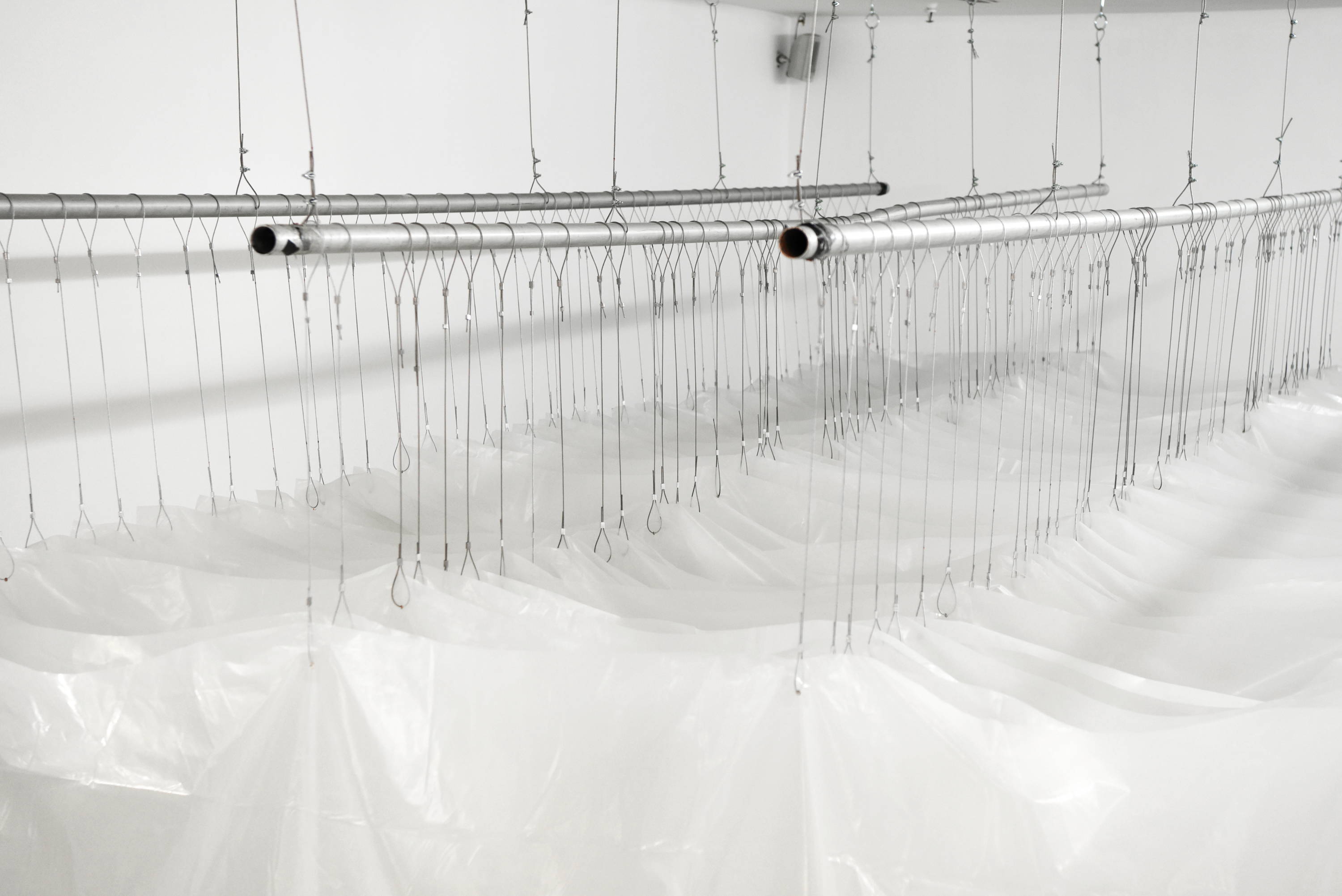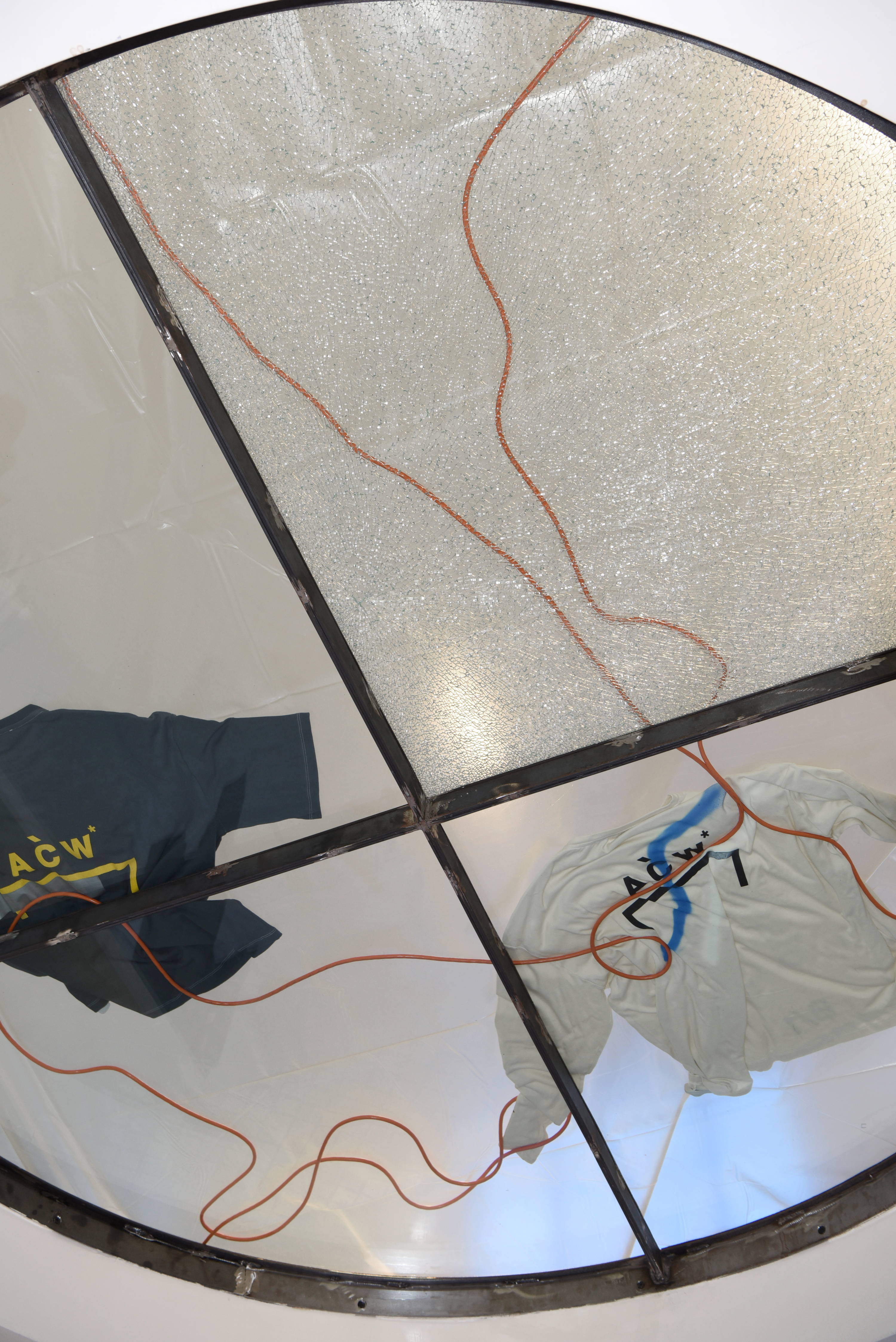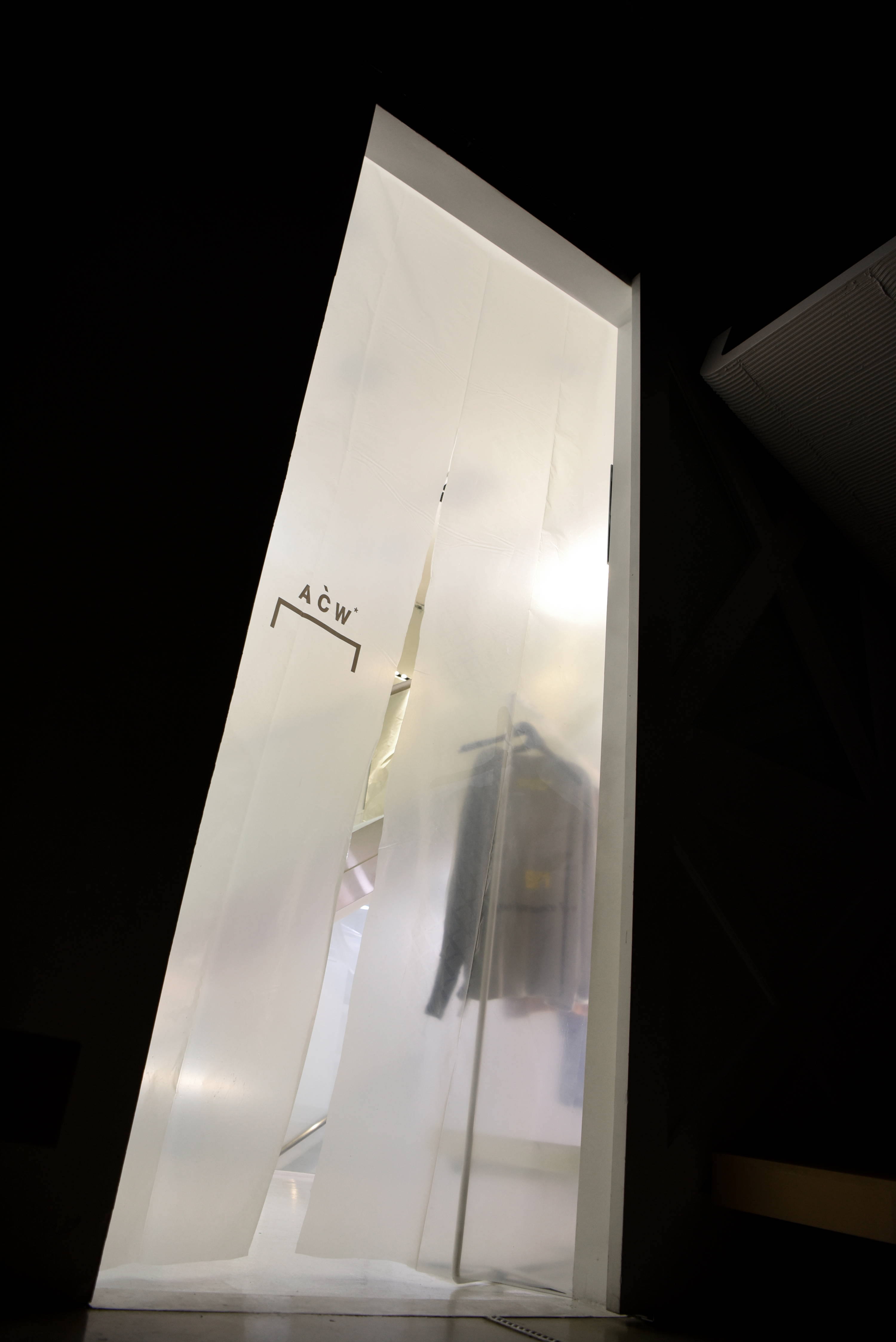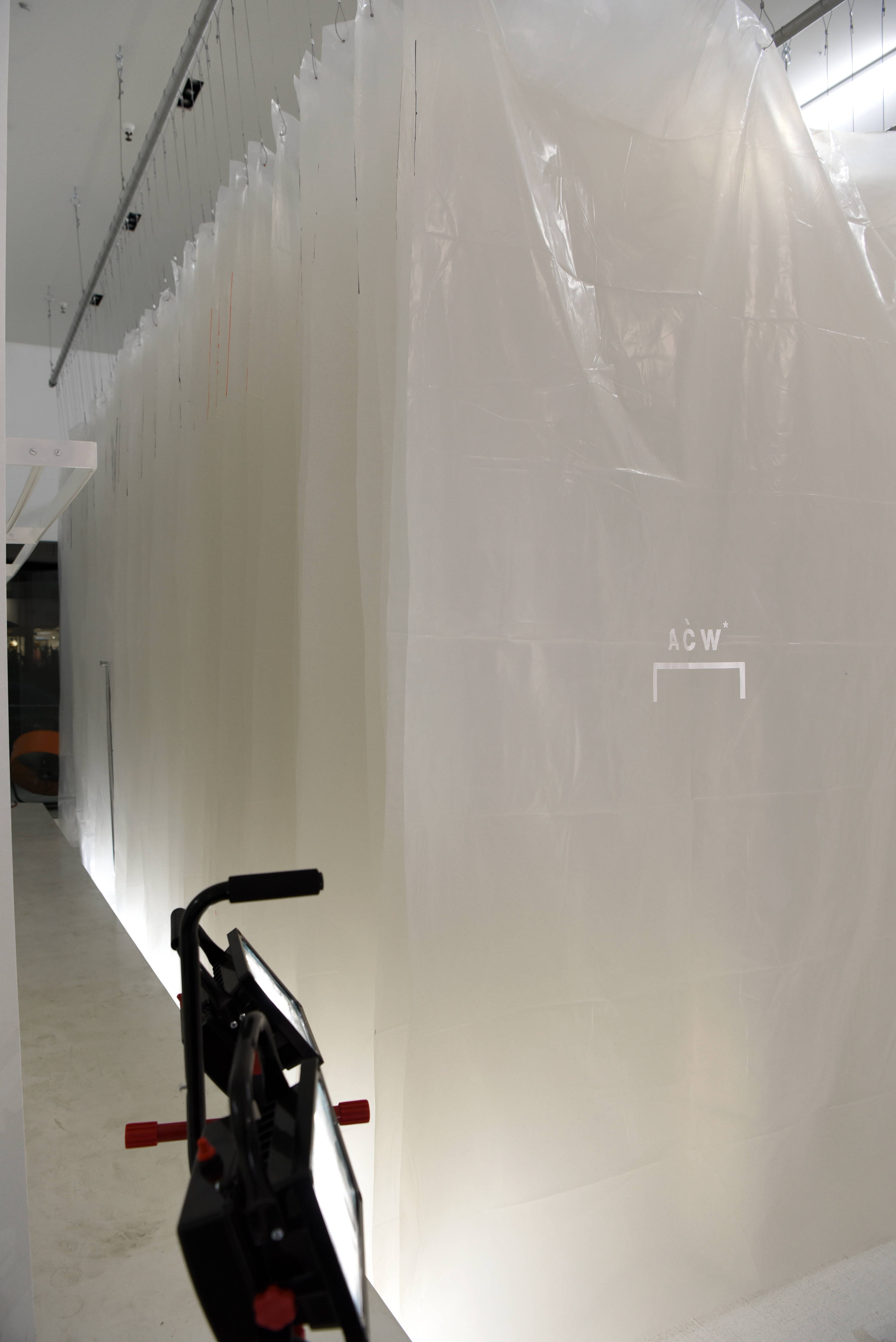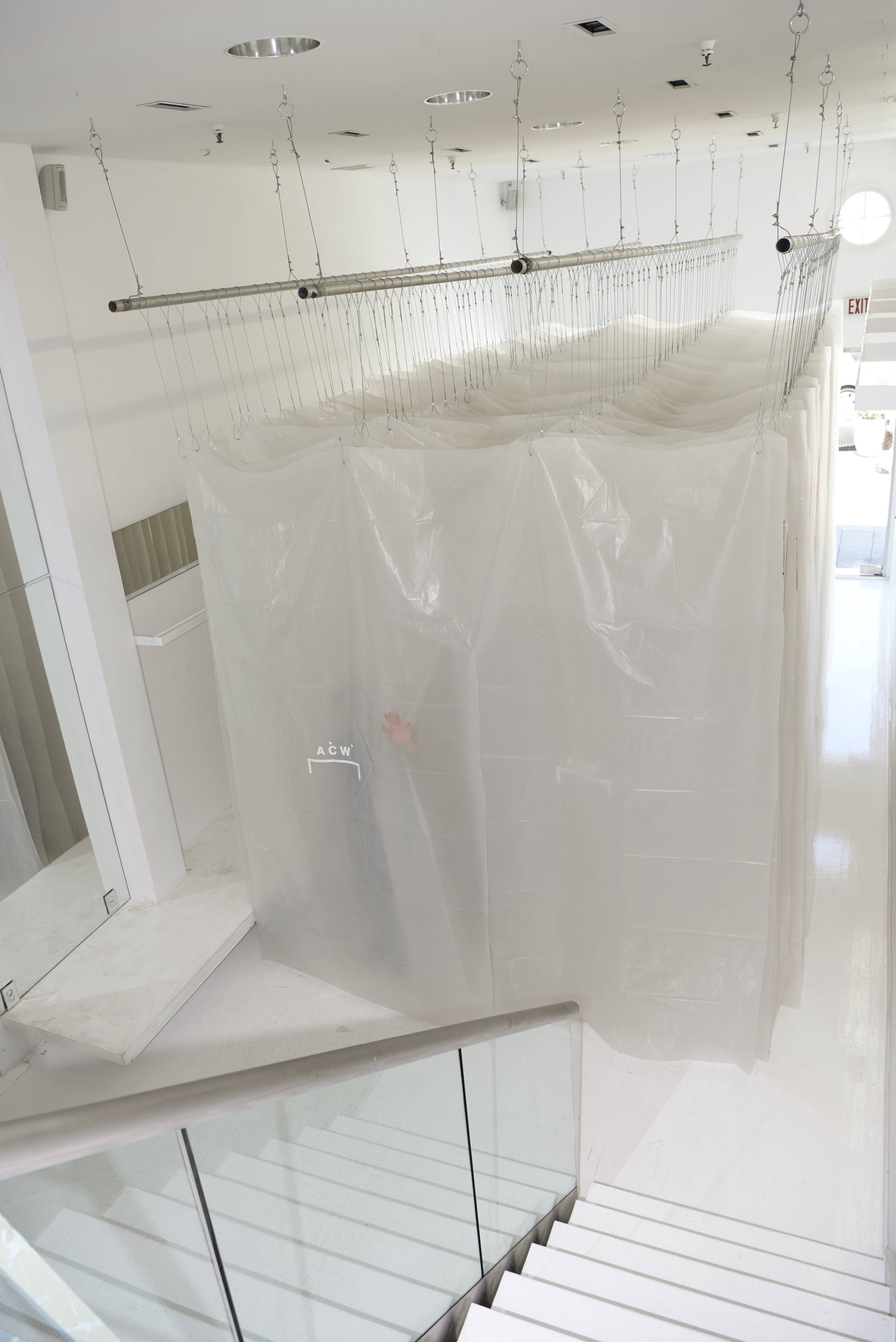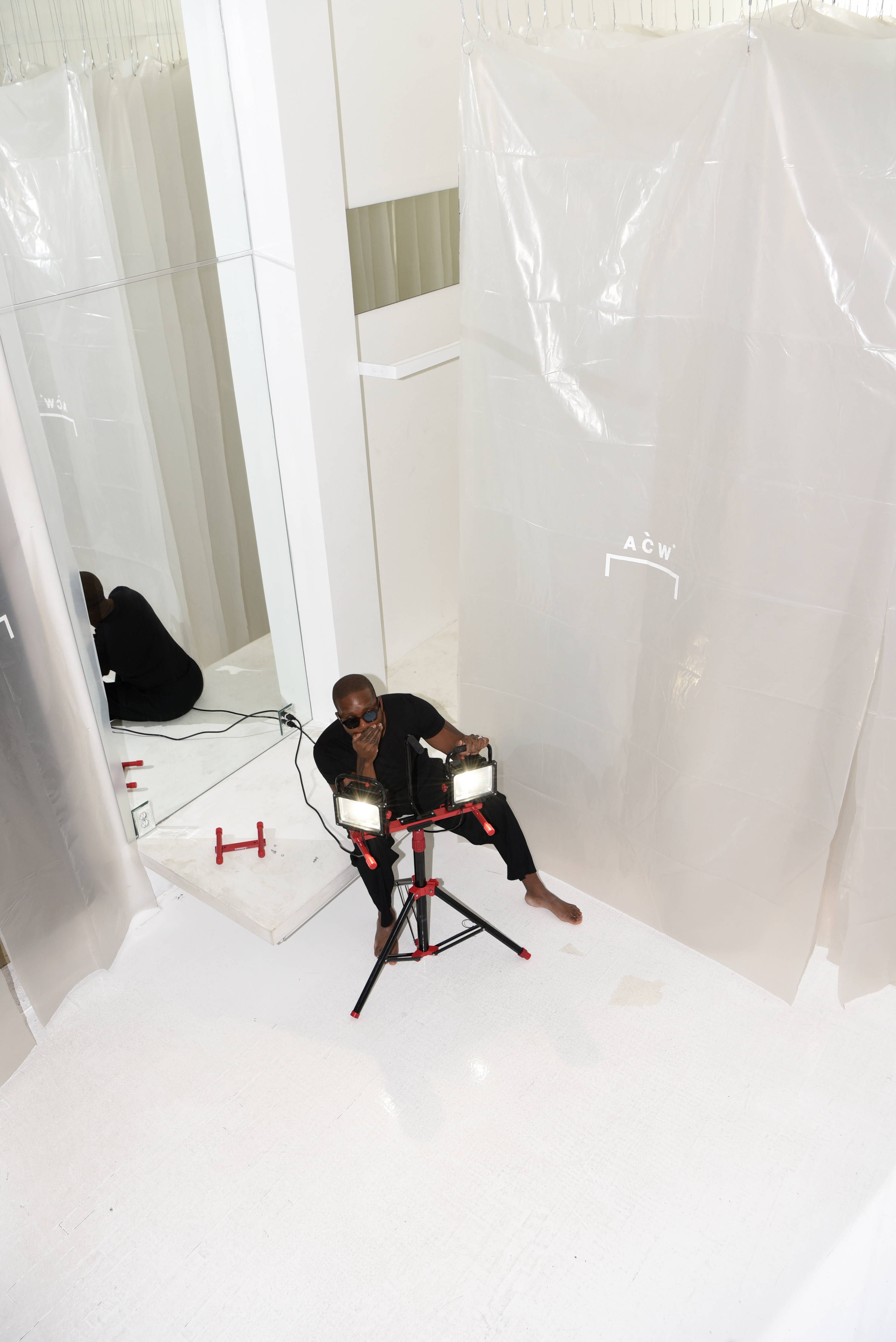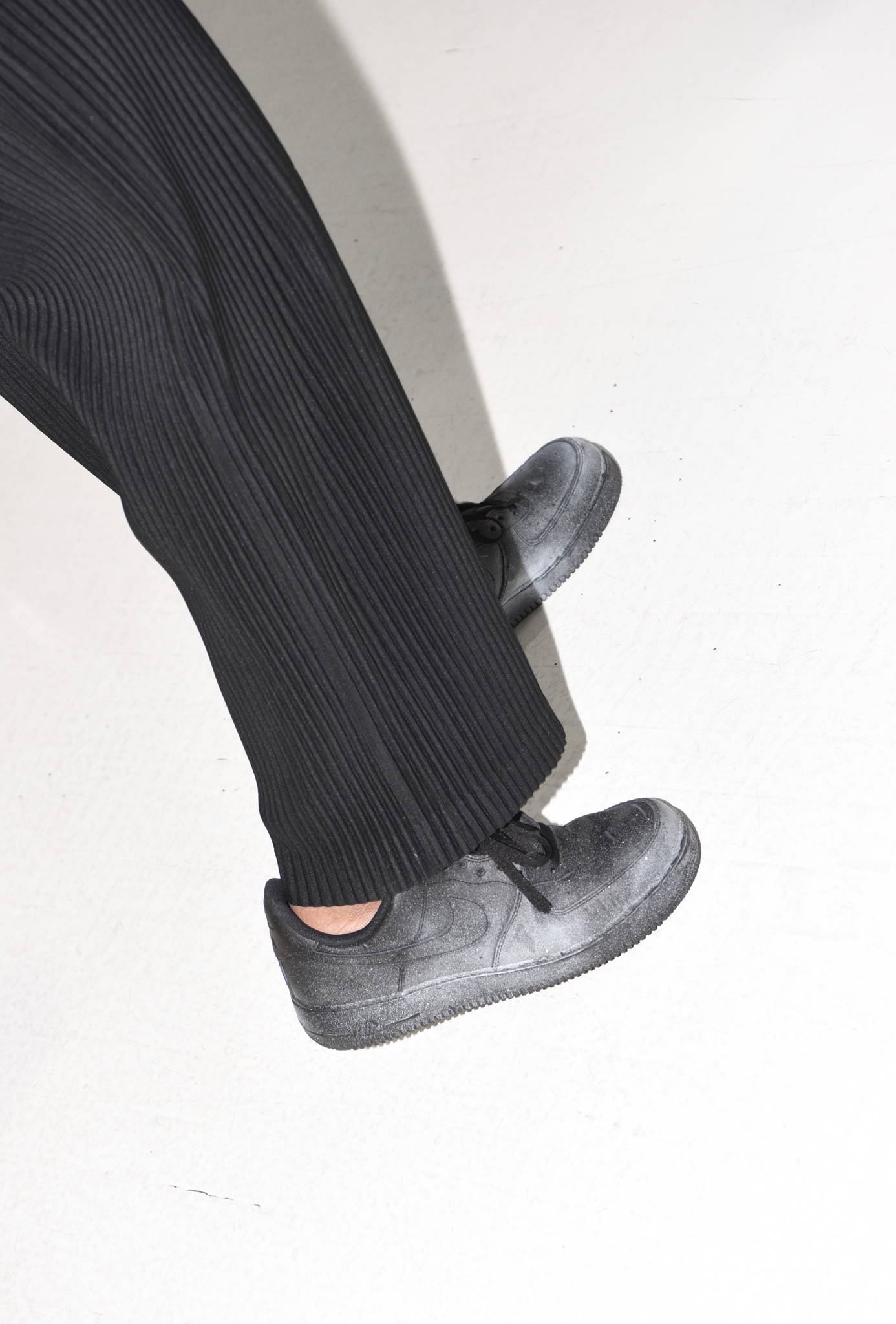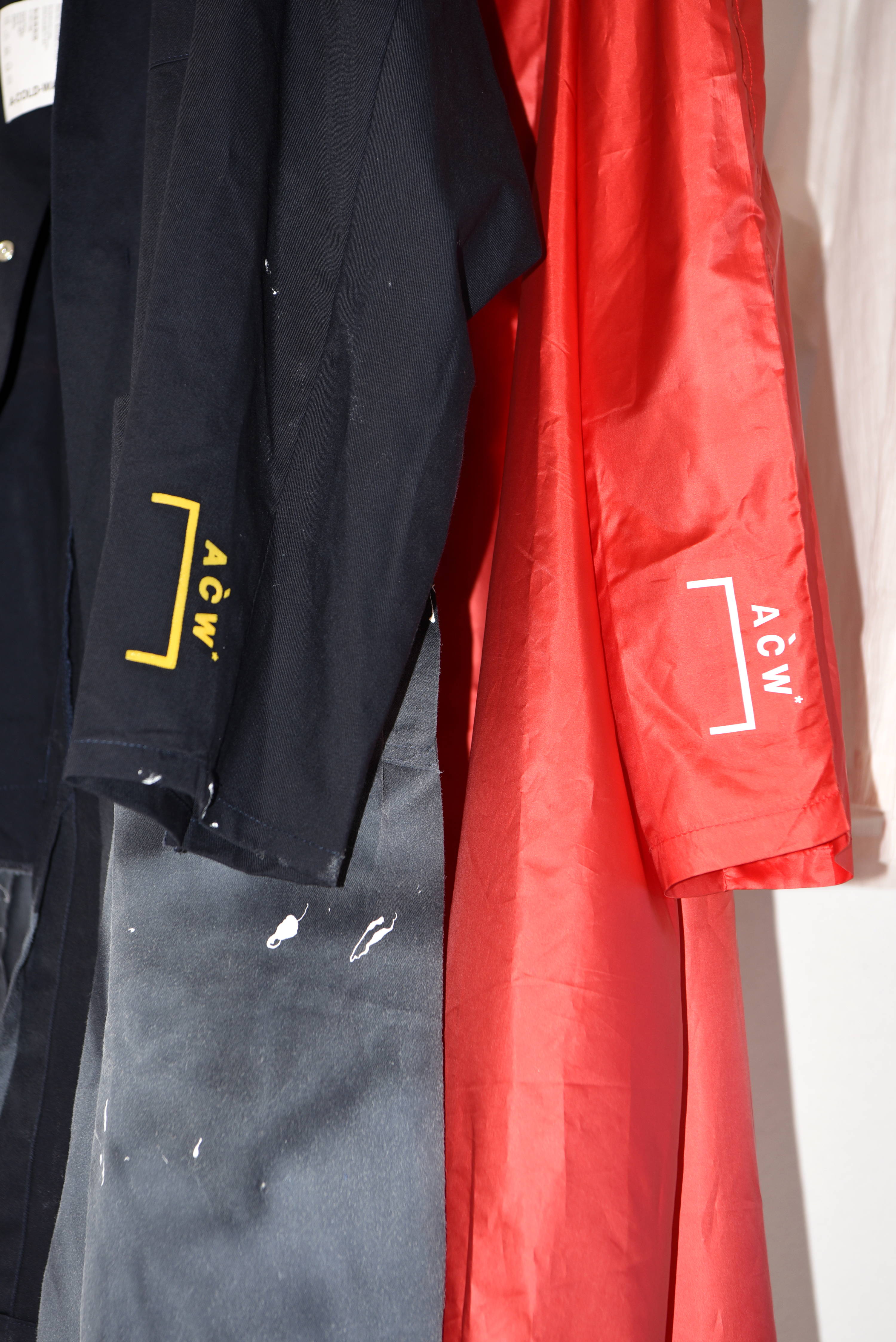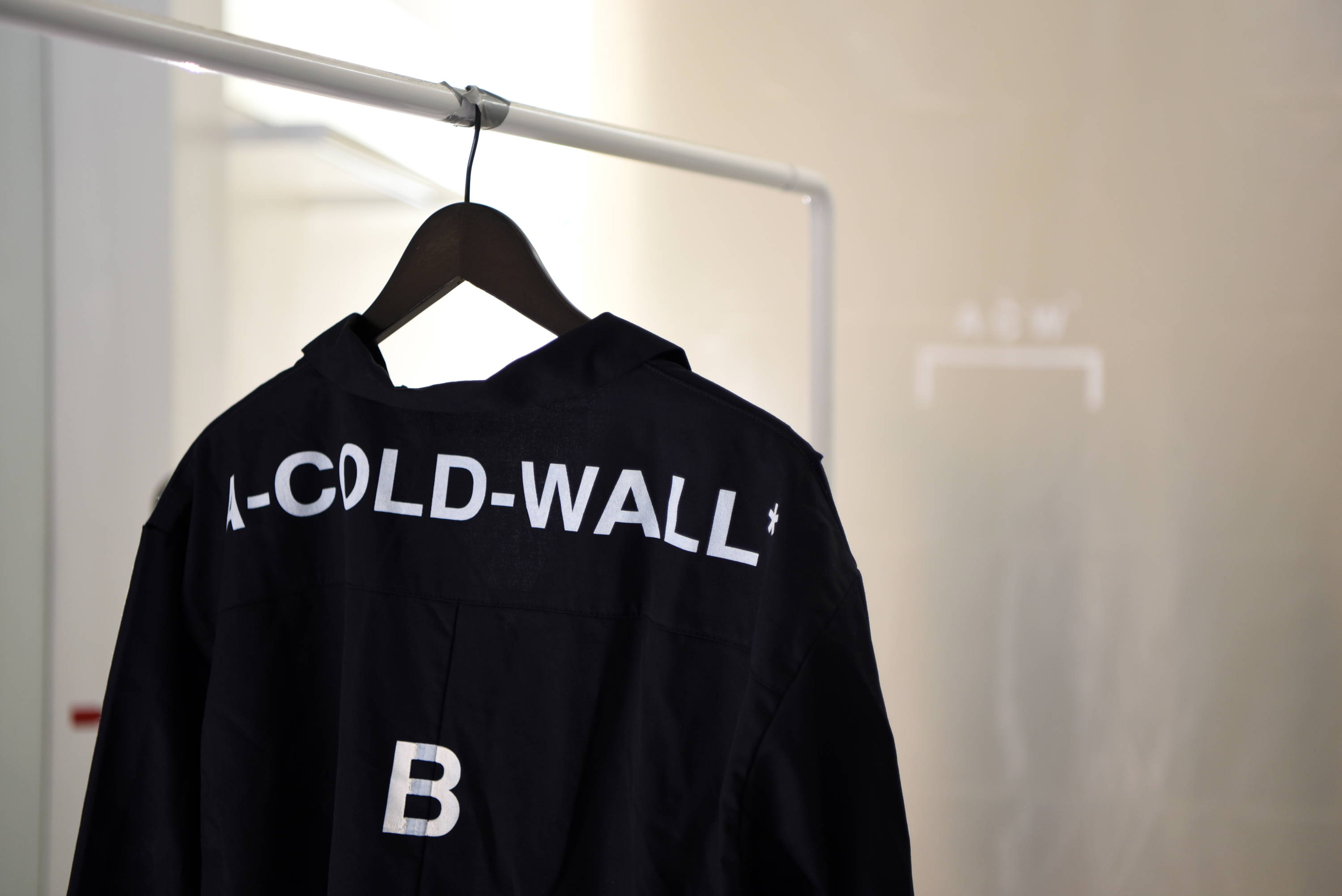 A COLD WALL PRESENTED BY SAMUEL ROSS
PHOTOGRAPHY: MATTHEW KAVANAGH
STYLING: HENRY CLUFF
IMODEL: TED VALASQUEZ @ PHOTOGENICS MEDIA LA
INSTALLATION DESIGNED BY SAMUEL ROSS AND ENGINEERED BY:
MATTHEW KAVANAGH, THOMAS VINCENT, HENRY CLUFF AND ALESSANDRO BARBI AT H. LORENZO
SPECIAL THANKS RENE CAZARES @ RC FURNITURE